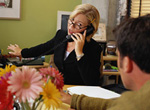 RFCU helps make money management easy…..

TEDDY (audio banking) is a free service that allows members to access their account via touch-tone phone, 24 hours a day, 7 days a week.
If you don't have TEDDY, call Member Services at 800-458-7004 and request an application.
If you have TEDDY call TEDDY at 800-573-RFCU or 610-783-RFCU and get acquainted!