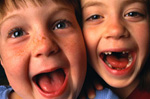 If you are between the ages of newborn and 18 or know someone who is, sign up to become a Reliance Rookie today.
But that's not all!! These extraordinary members deserve special treatment. Each Rookie will receive stickers, workbooks, and coin cards when they join the team. Rookies up to 2 years old will have their names and their sponsors' names published in the Reliance Update.
For every $5 deposit, in addition to the $50 needed to open the account, the Rookie will be entered into a monthly drawing to win $5.
Also, Rookies in 4th through 12th grades can earn up to $8 for great grades on their report cards. This program is called "Rookies' Rewards." The Rookies earn $2 for A's and $1 for B's in Reading, Math, History, and Science.
Contact us for a Reliance Rookie Application
.
Back to School Safety Tips
Be sure your child knows his or her home phone number (including area code) and address, your work number, the number of another trusted adult, and how to use 911 for emergencies. Make sure your child has enough change to make a phone call or they carry a telephone calling card.

Plan a walking route to school or the bus stop. Choose the most direct way with the fewest street crossings and use intersections with crossing guards. Test the route with your child. Tell him or her to stay away from parks, vacant lots, fields, and other places where there aren't many people around.

Teach children whether walking, biking, or riding the bus to school to obey all traffic signals, signs, traffic officers, and safety patrols. Remind them to be extra careful in rainy, foggy, or snowy weather.

Make sure they walk to and from school with others - a friend, neighbor, brother or sister.

When car pooling, drop off and pick-up children as close to school as possible. Don't leave until they have entered the school yard or building.

Teach your child never to talk to strangers or accept rides or gifts from strangers. Remember, a stranger is anyone you or your children don't know well or don't trust.
Reliance FCU Wishes All Students A Safe and Happy School Year.